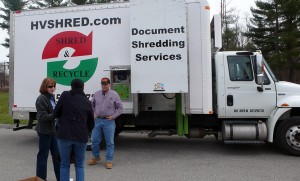 Community members take advantage of on-site shredding at Hyde Park HVFCU Shred Event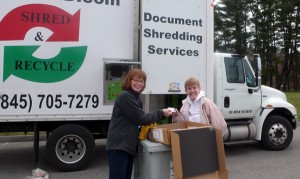 Shredding on-site in Hyde Park
The Shred Event season kicked off Friday, April 8th at the Hyde Park Branch.  Thanks to all who came out to take advantage of the on-site shredding service.  All together, members can feel good about shredding and recycling nearly 3 tons of paperwork–saving approximately 50 trees, 9 cubic yards of landfill, and over 1000 gallons of oil.
We're looking forward to keeping it going at the next event Friday, April 29th at the Pleasant Valley Branch.
With the fastest shredding knives in the region, we are proud to help our neighbors with the speediest, most secure shredding service around.